Hear the Yellow Music
Hear the 4-D Exposition
Hear the Red Music
Hear the Entrance of Meelor
Hear the Green Music
Listen to the music while you browse


Clicking on these thumbnails
will take you a page of full size images


The fourth annual
extravaganza of equinoxical exhilaration
is a rich trove of
pagan free jazz,
alien anarchy
and country music.

Terri Ferrari of Metal Tiger also shot video
and is doing Real Video.
send me your e-mail address
if you want to hear about updates
mic


Here's your invite to the event
as written by Citizen One

Well its time once again for our musical
Vernal Equinox celebration,
the one called LOVESPHERE.
This year makes number 4.
This year the crew has transformed themselves
into 4 dimensional beings
and they are putting on an Opera
as only those alien free jazzers
in full Spring Regalia know how to do it.

This year features:
M as Pistis Sophia
Citizen1 as Meelor the human/worm
G.Heidt as Zylor the Imperial Exalted One
DJ Firehorse as the helmsmen on the bridge
Emmallyea as the Subtle Body Being
and the Mammals of Zod Theater Orchestra
including
Zod
G.miles as the Perv/Berzerker
Ryan Sawyer - drums
and more...

Don't miss this exciting voyage into the UNKNOWN...




tickets are only $5

March 19 and 20, 1999 at 8pm
March 21 at 2pm
THE RESISTANCE THEATER
190 UNDERHILL AVE, BROOKLYN

I hope to see every single one of you there...
Love,
CitiZenOne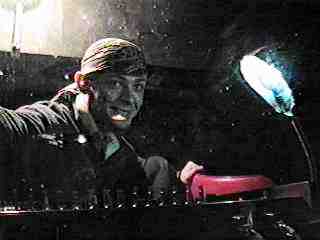 Ash from the Resistance Theater
helping us out on the lights on Sunday.

But chances are
you did not get or react
to your
pre-millenial invite.

Here's your second chance.