[an error occurred while processing this directive] [an error occurred while processing this directive]
We drove from San Francisco to the Squaw Valley ski resort in what could be called a blizzard. It's a unique experience crossing Donner Pass in fierce winter weather in a vehicle with no heat. It was about 3 am when our bundled up selves got there, which meant the "3 hour drive" took 7 hours. The main parking lot was completely empty at that hour, except for the signs that read "No Overnight Parking". But part of our plan was to camp in the van within walking distance of the ski lifts, so we had a look around and found a nearby hostel with cars parked in front.
Unfortunately the hostel had like 6 visible No Parking signs of its own, but we figured the management would be a bit gentler with enforcement than would the police who were probably in charge of the main parking area.
And right we were, since we never even came close to being bothered. So we were left alone to enjoy Van Glorious the Snow Cave (formerly the WryBreadBox). Remember the slogan: "If you're man enough, Van Glorious is van enough".
Inside the Snow Cave we lit the stove burners for warmth which, combined with my new carbon monoxide detector, provided decent and reasonably worry-free heat. Until Guzz complained about headaches.......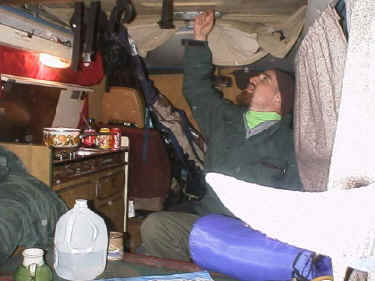 Here's Guzz noticing that the fiberglass on my pop top could use a little insulation. And the head of every screw protruding from the outside had a cap of frost.
---
---