Early one morning a few days later, Alyse and I catch a tempo, then continue our journey by train, a bus and our own feet out to the sleepy village of Khajuraho, home to some of the most amazing temples in the world.
The temples at Khajuraho were built during the Chandela period, a dynasty which lasted for five centuries before falling to the Mughals. Almost all of the temples date from a century-long explosion of creativity from 950 AD until 1050 AD. Their location, out in the middle of an arid plain and far away from any large population center, is puzzling. It is also a blessing, for their remoteness helped them escape much of the desecration wrought on other temples elsewhere in India by Muslim invaders.
The Western group of temples sit in a large grassy enclosure, green as paradise.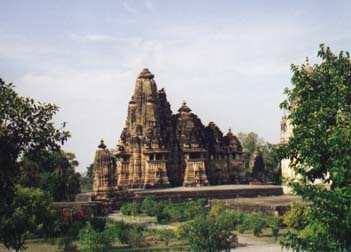 Temples rise out of the ground, many of them taller than a 5-story building. Most of them follow a similar format, with the temple sitting on a raised platform that forms a ledge surrounding it.
| | |
| --- | --- |
| | The walls of the platform, like the temple it carries, are filled top to bottom with intricate carvings that tell the story, the religion, the passion and the daily lives of a people who lived a thousand years ago. |
Aspects of physical and spiritual life have been preserved for a millennium in sandstone: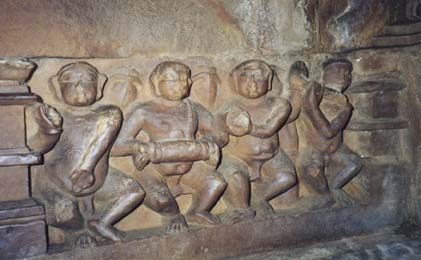 All in a line, two stone figures play dholaks, one plays the flute, while another dances to the music.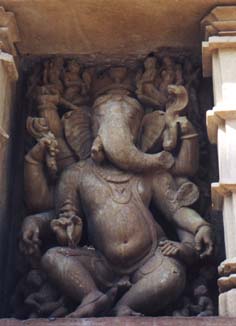 Ganesh, his belly awash with curves, does a jig to the rhythm of a tabla player at his feet.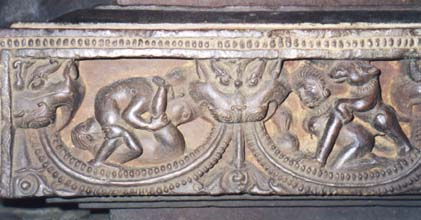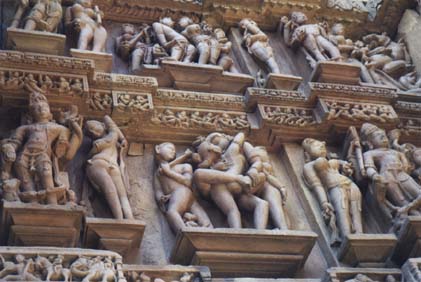 Erotic figures, called mithuna, are ecstatically locked in acrobatic Kamasutra postures as others look on or join in. Some sneak a kiss is a shady corner, reveling in an urgent embrace.