[an error occurred while processing this directive] [an error occurred while processing this directive]
If golf is a walk in the park spoiled by a little white ball, then skiing is a walk in the woods spoiled by two pricey slabs of fiberglass. It takes some time to break out of the habit of rushing down the slopes ignoring your surroundings.
But then you realize you're in an incredibly gorgeous area, and you have to expend almost no effort to travel around in it. It's a unique experience. Actually, right after shooting this picture I skied just a wee bit out of the ski area boundary (that untouched powder is tempting), and I had to expend tremendous effort to get back to a trail. But generally it's really beautiful and really easy to get around in. I wish I'd snapped more and better pictures, but I was pretty wrapped up in just skiing.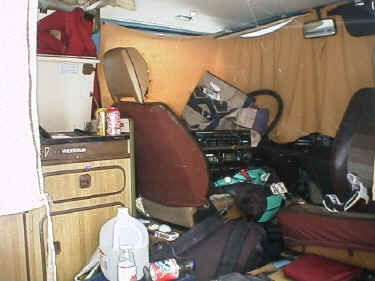 Another thing that hurts the skiing experience is the whole consumerism thing. Everyone's constantly buying stuff, and everything is expensive. The food is as expensive as in airports, and the equipment is outrageous. For example, when I unpacked my skis the morning of our first day of skiing, both bindings were broken and I had to buy a new set. Cost after installation: $280. And some goofy snowboarder MTV-victim recommended that I get a whole new set of skis as well. When he noticed me wince at the expense he said conspiratorially, "Dude, charge it!", as if he were letting me in on a way to get the stuff free. It seems a big problem is people don't use inginuity to solve problems skiing, they just buy something to do the job. So instead of tieing their skis to their boots with a shoelace, they buy "powder staps" (no offence Guzz). Part of the fun of camping in the parking lot was that at least where lodging was concerned the meter wasn't ticking, and for at least a moment we weren't being gouged. But they got us for plenty of money nonetheless, don't you worry.
We spent another night in Van Glorious the Snow Cave, and of course it got a little messier in there. And weird things started happening, like all the locks froze, as did the tapedeck.
---
---