The train from Pathankot to Delhi was late this morning -- once a train into a big city like Delhi is a bit late, it loses its track and must wait so as not to make other trains late. Today, the wait drags on for five hours.
After a rickshaw from the Old Delhi Railway Station to the New Delhi Railway Station, I stir up the dust in the cloak room searching for the excess baggage I left there way back on the 21st of February. Finally a cloak room employee finds the bag.
I catch a few moments of shut-eye during a blackout in a hotel in the tourist ghetto, Paharganj. Blackouts are common, and the added strain on the power grid of ceiling fans and air conditions as the days get hotter seems to increase their frequency. When the lights come back on, I walk to Connaught Place to buy a bus ticket to the airport. From there, it's a short walk to Jantar Mantar, an ancient astronomical observatory, past many down and out with makeshift shelters, to the tent where the second wave of 5 Tibetan hunger strikers continue resolutely with their unto-death fast. Their names and ages:
Ven. Jampa Kalsang, aged 23
Mr. Phuntsok Semsang, aged 25
Mr. Tsering Dorjee, aged 37
Mr. Kalden Norbu, aged 47
Mr. Tsering Gonkyab, aged 55
Mr Thupten Ngodup (late), aged 60
The tent city where the hunger strikers held their fast.
They have been fasting since April 28th, and have now gone 6 days without food. The see-through walls of their tent have been fixed after being ripped open by the police. Monks sit nearby on rugs, many fasting for 24 to 48 hours at a stretch in solidarity with the hunger strikers. On an altar nearby, a photo of Thupten Ngodup is covered with flowers. Rows of Tibetan yak butter candles burn in his memory, and banners above read: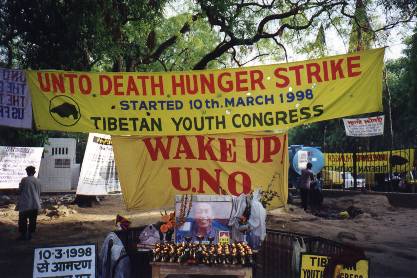 U.N.O refers to the United Nations.
Thupten Ngodup.
The hunger strikers have only four glasses of water with lime a day, two in the morning and two in the evening, plus a breath of tsampa smoke. Tsampa is a staple of the Tibetan diet; a breath of its smoke is believed to increase the vital energy of the hunger strikers.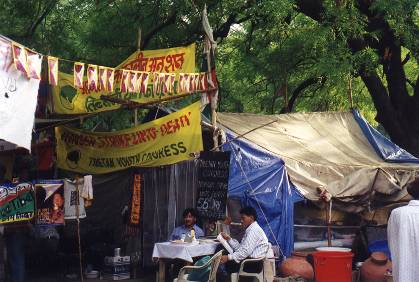 The hunger strikers' tent.
I am allowed into their tent, where I take a few photos and express solidarity with their cause. Their expressions are determined, and a few of them manage smiles in spite of their situation.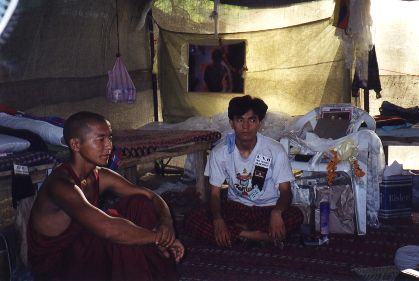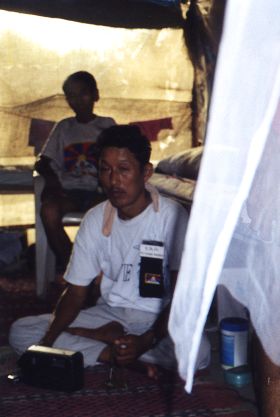 The hunger strikers in their tent.
They take heart in the knowledge that their actions are drawing attention to the Tibetan struggle for freedom.
I take my leave and walk slowly back through the tent city surrounding the hunger strikers' tent. Back in Connaught Place, I forego the bus for one last rickshaw ride to the airport.