March 10th. Six Tibetan hunger strikers began an unto-death fast in New Delhi today. They are protesting the Chinese government's repression of their culture and their people. I don't know it now, but our paths will cross in the future.
I forsake the peaceful small-town desert feel of Jaisalmer and catch an overnight train to Jodhpur, then a connecting train to Jaipur, a busy market town 160 miles southwest of Delhi. Jaipur's hilltop fortress looks out over the wide avenues and narrow alleyways of its old town whose bright pink and orange buildings give it the name "Pink City".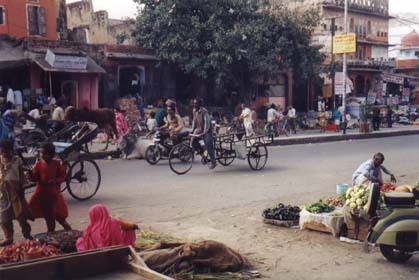 A street in Jaipur.
One day after lunch I set off in search of the Mahavaton ka Mohalia, the elephant owners' area of Jaipur. March 12th, the date of the upcoming annual Elephant Festival, is fast approaching and the elephant owners have already begun painting their prized pets.
Click here for photos from the
Jaipur elephant festival
I meet a Norwegian couple, and together we find two elephants who completely fill their backyard enclosure. We soon attract a large group of children whose unruliness increases in proportion to their number. Children following a foreigner in India attract more children, and the ubiquitous "One rupee! One pen! One chocolate!" can disintegrate into a mass of poking, grabbing and prodding hands. This time, the disintegration begins to feel like "Lord of the Flies".
A kindly Indian stranger helps me escape the curious throng by leading me to the main road through the busy pink and orange metropolis of Jaipur. The road leads out of town to Galta, a temple complex overlooking the city from nearby hills. I hire a cycle rickshaw but it's a sweaty, uphill battle for the poor driver to get to the base of Galta.
Vendors lining the entrance to Galta sell peanuts and chick peas, which are the focus of attention for the red-faced monkeys who fearlessly approach tourists and grab nuts from their hands.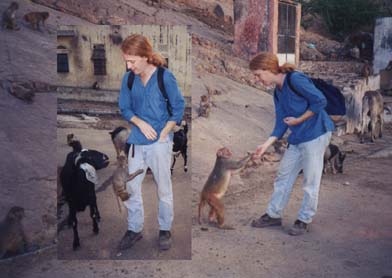 Peanuts are popular here.
Cows, pigs and goats mingle with the monkeys ... a monkey rides by on a cow's back. A winding cobblestone road meanders up the hill to the summit and beyond, and sadhus walk barefoot on a pilgrimage to the temples that line the road.
The sun is setting in another colorful blast of nature. Storm clouds gather nearby, and lightning crackles from cloud to cloud. I pass a temple dedicated to Hanuman, the Hindu monkey god. Further along, it begins to rain and I take shelter in what appears to be an abandoned temple.
The panoramic view, crisscrossed by rays of sun and storm cloud fingers, is out of a dream.
The clouds clear and a nearly-full moon rises. Near the summit, a sadhu seated in a temple beats a drum and chants "Sita Ram"; another sadhu chants with him. Rama is the seventh incarnation of Vishnu, and his wife Sita is an incarnation of Lakshmi, Vishnu's wife. Hanuman is Rama's faithful servant. The sadhus' sound is rhythmic, constant, eternal.
A talkative man with a charismatic smile approaches and introduces himself as Babalu. He informs me that a branch in the road continues down the other side of the hill into a valley to a monkey temple.
With Babalu following eagerly, I continue to the summit, remove my shoes and enter a temple dedicated to Surya, the Sun God. A ritual begins -- a man moves a candle around an altar while an elderly woman and a child bang on chimes. Babalu is ringing a bell. The woman asks me to beat on a large, flat drum. I grab two drumsticks and join in the energy. The noise continues and grows for a good ten minutes, followed by offerings to Surya.
Babalu is on the left; the drum is in the corner.
Within the temple enclosure, Babalu shows me a hidden passage that he says goes down 80 feet to another temple. A stairway disappears into darkness, the first few steps illuminated by the uncertain flicker of my lighter.
Babalu and I walk down to the base of Galta and catch a bus to his house, where I meet his family -- parents, grandparents, sisters, brothers, children, nieces and nephews all fill a small room.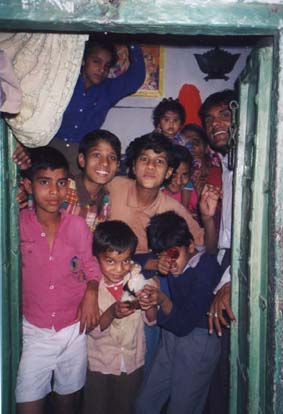 Babalu and his extended family.
Grandma has an eye problem; eyes look to me for advice. Eye drops would help, but they have none.
I suggest a movie and soon find myself sitting on the back of a sturdy Indian bicycle as Babalu peddles through typically-hectic traffic to the Raj Mandir cinema, the largest cinema in Rajasthan and perhaps in all of India. The lobby, where snacks are served, is a glittering, stunning, somewhat gaudy affair with a chandelier, balcony, and pink wall lighting, like some fairy tale palace.
The palatial lobby of the Raj Mandir cinema.
The movie playing within is "Dil to Pagal Hai", which means something akin to "The Heart is Crazy in Love". It's the most popular film in India at the moment; you hear its soundtrack blasting in buses and blaring from tape shacks. It has the same theme and style as most commercial Hindi films: a soap opera love story with constant high-pitched singing, dancing, and starry-eyed couples running in slow motion to embrace each other while surrounded by improbable gardens of Eden.